Window Cleaning Facility Management Services at DI Facility Services in Chicago, IL
Professional window cleaners in Chicago, IL and surrounding areas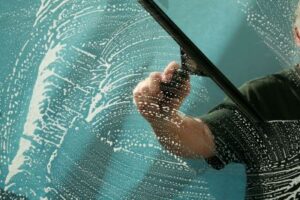 One of your top priorities as a business owner is maintaining a clean work environment. This is especially important when it comes to your windows. If your windows are sparkling clean, your whole office is brighter, resulting in better working conditions for you and your employees.
At DI Facility Services, we can wash and maintain your windows for you, so you'll never have to worry about it. This will give you more time for the things you should be concentrating on, like running a business.
Reliable providers of facility management services and window cleaning
When it comes to helping small business owners with their operations, window cleaning is just one of the things DI Facility Services specializes in. When you work with us, you're gaining a partner who can help you with all aspects of running your facility. Because we have decades of experience assisting business owners just like you, we're used to tackling all kinds of problems.
We know how important it is to be flexible, so we make it easy to schedule our services, leaving it up to you to determine when and where you require our presence. We can schedule several visits on a weekly or monthly basis, any time during the day or night.
At DI Facility Services, our team of skilled workers are committed to cleaning your windows — inside and out — in accordance with the highest possible standards, and in keeping with all safety regulations.
The only facility services management professionals you'll ever need
When it comes to facility management services, there's nothing DI Facility Services can't handle. In addition to window cleaning, we have the staff and tools to clean your entire workspace, landscape your lawns and gardens, maintain your parking lots, and even perform staffing and other special services.
Instead of having to rely on the services of several different companies, you can have all of your facility management needs met just by calling us. We understand how challenging running a business can be, so we'll work with you to come up with a service plan that will help you run your business in a manner that fits your budget.
For more information, don't hesitate to call us today!
Reliable Window Cleaning Services in Chicago, IL & Surrounding Areas