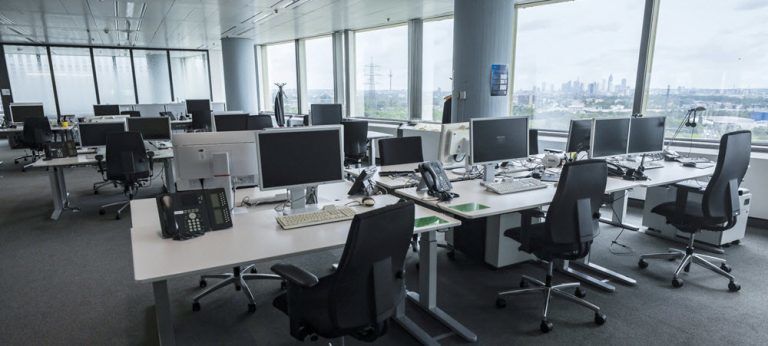 Office Cleaning Services at DI Facility Services in Chicago, IL
Any size office. We can handle whatever you need!
Few things are as important when running a business as having a clean work environment. This is especially true when it comes to offices. Not only will employees appreciate a workspace that's safe and productive, but clients and visitors take notice of rooms and offices that are spic, span, and professional.
Leading Provider of Office Cleaning Services in Chicago, IL, and Throughout the Chicagoland Area
At DI Facility Services, we have years of experience cleaning and maintaining offices just like yours. We know the best practices and have access to the finest tools and workers to get the job done and get it done right.
Here Are a Few Reasons to Rely on DI Facility Services for Professional Office Cleaning Services
A Healthier Working Environment — When an office is thoroughly cleaned, its residents are protected from viruses, germs, and bacteria that would otherwise be present. This protects a business from lost man-hours due to unhealthy (and unhappy) employees.
A Better First Impression — A clean office makes visitors feel welcome. They know they can trust a business that makes it a priority to ensure that their workspace is a fresh and attractive environment.
Less Hassle — Inevitably you'll have to take care of day-to-day chores such as vacuuming, sweeping, and wiping down of counters. By putting such duties into the hands of professionals, you're free to concentrate on the other aspects of running a successful business.
Better Results — You and your employees are not trained for professional office cleaning services. By relying on the experts at [company], your office will be thoroughly cleaned and disinfected to meet the industry's highest standards.
No one is more knowledgeable or experienced in cleaning office spaces than [company]. To ensure we provide the best office cleaning services in the business, we've developed our own 4-Point Solution.
DI Facility Services's 4-Point Solution
Highly skilled, trained, and certified staff
The latest in cleaning techniques, chemicals, and equipment
A customized plan to suit your individual needs
Personalized service from locally-owned providers
Learn more about our other services
DI Facility Services is here for all your facility needs. This includes:
Our services require no contract, and can be catered to the specific needs of your facility.
Your Office Cleaning Experts
With decades of experience in cleaning all types of work environments, DI Facility Services has a process that's safe and effective. We only use green chemicals, utilize cleaning routes to ensure reliable service, and our professionals are highly skilled at germ and infection control.
We'll even provide your office with a thorough 13-step restroom care program, and expert cleaning services such as vacuuming and dusting, as well as the finest in floor and carpet care.
To learn more about how DI Facility Services can help your business with its office cleaning services needs, contact us online or give us a call today at 312-982-3760.
See the DI Facility Services difference!
Contact us today for a free, no obligation and customized proposal.
We stand behind our guarantees: DI Facility Services does not require long-term contracts.